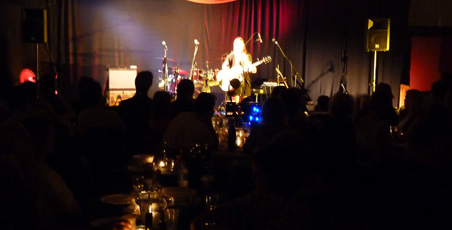 Cost / What to Bring

Special Concert Night (Don Francicsco):
Normal concert-style seating. Drinks for sale during break. See www.KeystoneMagazine.com for tickets
($35, $25, $15)
Normal Gospel Live night: The cost is $10 (or $7 for pensioners/students) for seating in a café style environment. Patrons BYO snacks and drinks. Invite others to share your table. Meet new people. This is an inexpensive night where good entertainment can be enjoyed with friends.
Contact Us / Interested Artists
Artists interested in performing in future events should access Gospel Live on www.GospelLive.org or Facebook , email info@GospelLive.org or phone Robyn, Zoe, Jake or Steve on (02)9905 7215.
eMailing List
Would you like notice of our monthly events? Click here to Subscribe or Unsubscribe
Location
Gospel Live is located across the park from Manly Police Station at 4 West Promenade.
Parking
Cheapest paid-parking is in Whistler St and other council carparks for $8 but only if you arrive after 7pm. Closest paid-parking is 40 metres away in Gilbert St for $12 after 6pm. Street side parking: Sydney Rd, Raglan St or Tower St. If you don't mind a walk, there's free parking on the ocean beach front.